Interview with our Erasmus+ Trainee in the International Office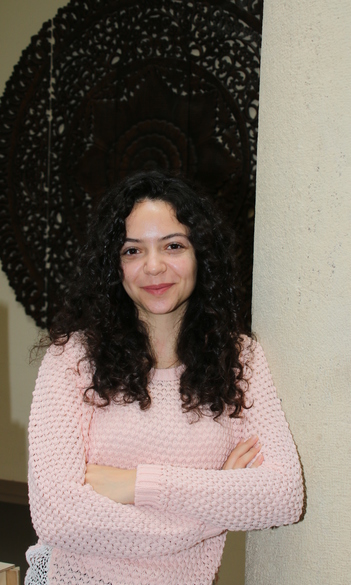 Fatma Tosun, from Pamukkale University, Denizli (Turkey) tells us about her Erasmus+ Traineeship in the International Office at the ELTE Bárczi Gusztáv Faculty of Special Needs Education.
Why did you decide to do an Erasmus+ traineeship abroad?
I decided to do an Erasmus+ traineeship because this programme offers me a lot of opportunities. It provides me with valuable experience before I start my business life. It also allows me to socialise in a multicultural environment. Moreover, I have improved my English skills thanks to this programme.
What made you choose to come to Hungary?
I had so many reasons. First of all, Budapest is a well-known city that is both historical and modern. I was impressed by the fact that the Ottoman Empire extended here in the past. I also have some friends who had been to Budapest before and they highly recommended that I do my traineeship here. What's more, when I looked at a map, I saw that Hungary has a perfect geographical position in Europe.
Were there any special reasons why you chose the ELTE Bárczi Gusztáv Faculty of Special Needs Education for your Erasmus+ period?
The primary reason I have chosen ELTE is that it is one of the best universities in Budapest. The Central Student Affairs and the ELTE Erasmus Office were very friendly, helpful and informative when I sent an e-mail to the departments. The ELTE Erasmus Office directed me to 'Bárczi' during the agreement process.
Was it easy to find accommodation in Budapest?
Finding accommodation was really easy for me, because all the ELTE faculties have their own hostels. In addition, there are a lot of shared houses in the city centre, which you can find on some social websites. I have chosen to stay in the hostel, which the Erasmus coordinator at Bárczi helped me find. For me, this has been the most economical way of living in Budapest.
How long are you staying in Budapest?
I have been staying in Budapest for three months. I will have stayed here for three and half months in total.
What do you do as an intern in the International Office at 'Bárczi'?
Firstly, I help the staff members with English documentation. For example, I'm transferring the necessary documents to the computer with excel and I appreciate their efforts to store the documents on the computer to reduce the use of paper. I also communicate with international students and staff by answering emails. These are the administrative aspects of my internship. We also exchange ideas in the International Office to promote the Erasmus+ programme for Hungarian students at the Faculty, and I prepare some marketing materials to share with the Hungarian students.
What have you enjoyed most about your Erasmus+ traineeship?
I have enjoyed the sincerity and encouragement of the whole staff from the first day of my internship. I felt this mostly when I was asked to make a presentation about myself and my culture to the staff of the Dean's Office and the International Office. Their interest and sincerity made me feel at ease.
What's it like living in Budapest?
Thanks to the Danube, living in Budapest always makes you feel at peace. Just as, many years ago, the bridges connected three towns with each other and created Budapest, so I too have been connected to Budapest by those marvellous bridges.
Is there anything in the Hungarian way of life that you would like to take back home to Turkey as well?
Yes. I want to take back the Hungarian culture of greeting. I think greeting is a cultural thing here. For example, in the lift people do not pass each other without saying hello and goodbye every day, even if they have never met before. This is very polite. But in Turkey we don`t look at each other in the lift.
What do you consider to be the most important aspects of your Erasmus+ experience?
The most important aspect of my Erasmus+ experience was to overcome my hesitation in speaking English. I almost ran away to avoid talking when I saw a foreigner in my own country. But now I like meeting new people and talking to them in English. I have learned interactive skills that I can use in my daily life and teach my friends. Besides, I have also attended the introduction courses of the foreign Erasmus+ special needs education students, during which we had field visits and thanks to them, my awareness of people with disabilities has increased.
Which places would you recommend visiting in Hungary?
I highly recommend visiting Szentendre, by the bank of the Danube just North of Budapest. Szentendre is easily reached on the suburban railway line or by boat, and is a quiet place where you can escape, away from the big city. I particularly liked the narrow, cobbled streets there.
What top three tips would you give to future students thinking of coming for an Erasmus+ traineeship to the International Office at 'Bárczi'?
Firstly, feel free to ask for help if you're stuck on anything. You will come here to learn so they will gladly explain things to you. Secondly, it's easier for you if you're good with computers and Word, Excel shortcuts. Thirdly, if you make friends with Erasmus+ students at this faculty, you can hang out with them like a student after the work. Please don`t forget that no one will ever give you such an opportunity both for work and socialisation, except Erasmus+.